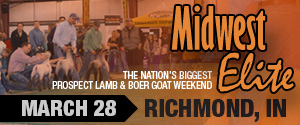 Show: March 27 - Sale: March 28
Richmond, Indiana
F254 - Ewe
Ratchet x Johnson NT

A5051 - Ewe
Ratchet x Dirty 30 x (Donor 1010)

F377 - Wether
Shower Chicken x Trigger

F121 - Ewe
Fowl x Blast Off x MVP 170


We will be offering ram lambs, ewe lambs, and wethers born in February & March
for sale via our Late Bid Board Sale.
Visitors welcome to stop by the farm anytime to view the offering.
All bids must be submitted to Perry (641.660.3489) by Sunday, April 19th @ 5PM.


to our 4th Annual December/January Born Lambs Bid Board Sale buyers!
We appreciate everyone's help in making this the best sale yet!
7 Rams, 18 Ewe Lambs, and 40+ wethers sold
Best of luck with your purchases!