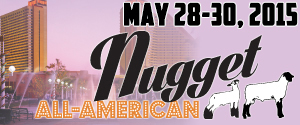 Reno Nugget All-American Sale - May 28-30 @ Reno, NV

F361 - Feb. Cross Ram - RRNN
Shower Chicken x Pony



F080 - March Cross Ewe
Thorn x JAM

Grand Champion Natural Ewe
Junior Champion
A5045 - March Natural Ewe
13 x Troubadour



Senior Champion Natural Ewe
4139 - Natural Yearling Ewe
Si x 007(Leo Son)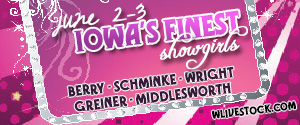 June 2-3 @ wlivestock.com
F151
February 6
Fowl x D208 (Puma x Dog)

This little lady is about as trendy looking as you can make one. Well, if you your definition of trendy is round bodied, perfect flank set, big muscles, and shaggy that is. She has power in her genetics too, out of one of those Puma daughters we are awful high on. This one probably needs to get slicked off and drug around a while before you expose her, but whatever your choice on that she will make a phenomenal brood ewe in the end.


F274
February 5
Ratchet x 277 (Trigger x Poison)

It's Ratchet time! We have only turned loose of two ewes out of Ratchet at public auction and they averaged $5000. These things are just what we thought they would be when we threw so many ewes to Ratchet, wild from the side, huge backed and fat loined. This one has a little tint to her, but we think it adds to her look. She's another one that could show a while and make some cash back, but she will sure get your investment back when she lambs.

F076
February 6
Thorn x D289 (Dirty 30 x RAM)

One of the first "Thorn" ewes we have let go. He did a heck of a job on our yearlings and this is a good representation. These lady's have that extra rib and stoutness we like when sorting our ewe lambs, but still keep that body shape their daddy is bred to have. This one will be a front pasture kinda female all her life. Who knows, if she clicks on your buck could possibly earn her self a flush spot.

F128
January 20
Fowl x Bulldog

A little older ewe that's bigger in her kind, but still has more than enough junk to match her frame. She's out of a "Bulldog" daughter (Dog) we picked up from Fishers in Idaho. Those females have done a great job for them and this ones mom matched up with Fowl extremely well. If your looking for one that's not a midget and still has some stoutness check her out.

F5050
January 24
Thorn x 7079 (Toxic)

Interesting genetic combo for our casa. She's out of a Toxic ewe we got at Industries Elite from Begalka, and she has done a great job. This one is definitely a future brood ewe that's ready to go into production. She's sow bellied, monster backed, and fat butted. This one isn't one that will hit the ring but if you got a pretty buck that needs some stoutness from the lady's to get things right, this one is for you.

F068
January 19
Thorn x A104 (Monkey)

As we rap up our consignment we do it with one that is as good as one we started with. This one is way solid in her build and is extremely hard to punch a hole in. Her lines her good, plenty of muscle, and great skeletoned. She will be one you can throw any buck on and she should throw out good ones. Get her bought and I bet you come out smelling like a rose.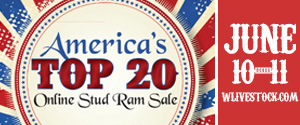 June 10 -11 @ wlivestock.com

PONY X STUD DUCK
QRNN

Well, after a years worth of debate amongst us all we have decided to offer a chance to own a true proven stud buck. Some view a proven stud as one who has had multiple winners go through the ring at the "big shows", so we compiled a short list of his bigger wins: Bronze '15 OYE, Natural Class Winner '14 NAILE, Class Winner '14 KC, Reserve Div III Wether '14 AkSarBen, Ch Natural '14 MO State Fair, Grand '14 KS State Fair, Reserve Grand '14 Western ID State Fair, Reserve Natural '14 CA State Fair, Grand '14 Sonoma Co Fair, Grand '14 Mid-State Fair, Reserve Supreme Ewe '14 Sedalia, Reserve Natural '14 OYE, Reserve Suffolk '13 Tulsa, Champion Commercial Ewe '13 Iowa State Fair 4-H, Champion Suffolk '13 Ohio State Fair, Res Cross Ram & High Seller '13 Sedalia all pictured below.

While some think that if a ram doesn't make the right kind of daughters he's not a stud. We can tell you with absolute confidence that he and his flush brother 13 will make up the majority of our ewe base as we progress forward for many reasons with the main one being because they flat work. The females this guy lays down are not only easy on the eyes, and they offer so much mating versatility it's hard to breed them the wrong way.
We have given you both lamb and aged pictures to evaluate, and believe that no matter what your basis is for calling one a stud buck, we think this one will qualify. Call or text any of us with questions on this guy!
CHAMPIONS SIRED BY PUMA:
Bronze Medallion - '15 OYE

Class Winner - '15 OYE
4th Overall Cross - '14 Tulsa

Class Winner - '14 NAILE

Grand Champion - '14 KS State Fair

Res Div III - '14 Ak-Sar-Ben
Ch Natural - '14 MO State Fair
Class Winner - '14 American Royal

Res. Grand - '14 Western ID Fair

Grand - '14 Sonoma County
Res. Natural - '14 CA State Fair

Grand Champion - '14 Mid-State Fair

Res Supreme Ewe - '14 Sedalia

Res. Natural - '14 OYE

Grand - '14 KY Jr Livestock East

Ch Suffolk - '13 OH State Fair

Ch Comm. Ewe - '13 IA State Fair

Res Suffolk - '13 Tulsa State Fair

3rd Overall Cross - '13 Tulsa

Res. Cross Ram - '13 Sedalia